Through its membership with the American Hardwood Export Council (AHEC), which promotes American hardwoods overseas and is a partner of The London Design Festival, Northwest Hardwoods has donated American tulipwood for a pavilion installation called MultiPly to be featured in the Sackler courtyard of the Victoria & Albert Museum in Knightsbridge during the festival. MultiPly is collaboration between Waugh Thistleton Architects, the American Hardwood Export Council (AHEC) and ARUP Group.
MultiPly explores a new, more sustainable way of building that showcases the structural, aesthetic and environmental properties of American tulipwood cross-laminated timber panels (CLT). American tulipwood is one of many American Hardwoods that AHEC promotes to other countries and is one of the widely available and sustainable hardwood species from the U.S. hardwood forests, and is unique to North America.
According to Andrew Waugh, co-founder of Waugh Thistleton Architects which designed MultiPly, the goal of the installation is to "provoke a debate around how environmental challenges can be addressed through innovative, affordable construction."
The 9-meter high, three-dimensional MultiPly structure will feature a maze-like series of interconnected spaces that overlap and intertwine and will take visitors through a series of stairs, corridors and open spaces. The installation is meant to invite visitors to explore the potential of wood in architecture.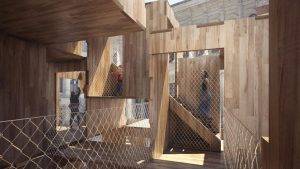 MultiPly represents the merger of modular systems and sustainable construction materials as a solution. To date, most CLT has been made in softwood, but AHEC is increasingly exploring and promoting hardwood as an engineered wood option, with its own unique performance and environmental advantages.
The structure also highlights two of this generations biggest challenges: the urgent need for housing and ways to combat climate change. "We are at a crisis point in terms of both housing and CO2 emissions and we believe that building in a versatile, sustainable material such as tulipwood is an important way of addressing these issues," said Waugh.
The London Design Festival runs concurrently with the London Design Fair, a four-day industry event that brings together 550 exhibitors from 36 countries, including: independent designers, established brands, international country pavilions, features and exhibitions. Each year, over 28,000 influential retail buyers, producers, architects, designers, interior designers, press and design-savvy public, will attend to see the very latest in furniture, lighting, textiles, materials and conceptual installations, from all around the world.