We're back from Las Vegas and the 2019 Kitchen & Bath Industry Shows (KBIS) and International Builders' Show (IBS). The joint event for builders and designers exhibits the latest ideas, appliances and technologies.
"The energy was palpable," says Brian Pagel, Senior Vice President of Emerald Expositions, one of the event's 600 exhibitors. The numbers back him up. Not only did the net display space increase this year (to over 1 million square feet) but the event registration increased 30% from 2018, putting best estimates of attendance at more than 100,000 according to Pagel.
We spent the weekend browsing the Las Vegas Convention Center for signs of the best and boldest to come. Here are the four biggest trends we saw for kitchen and bath design.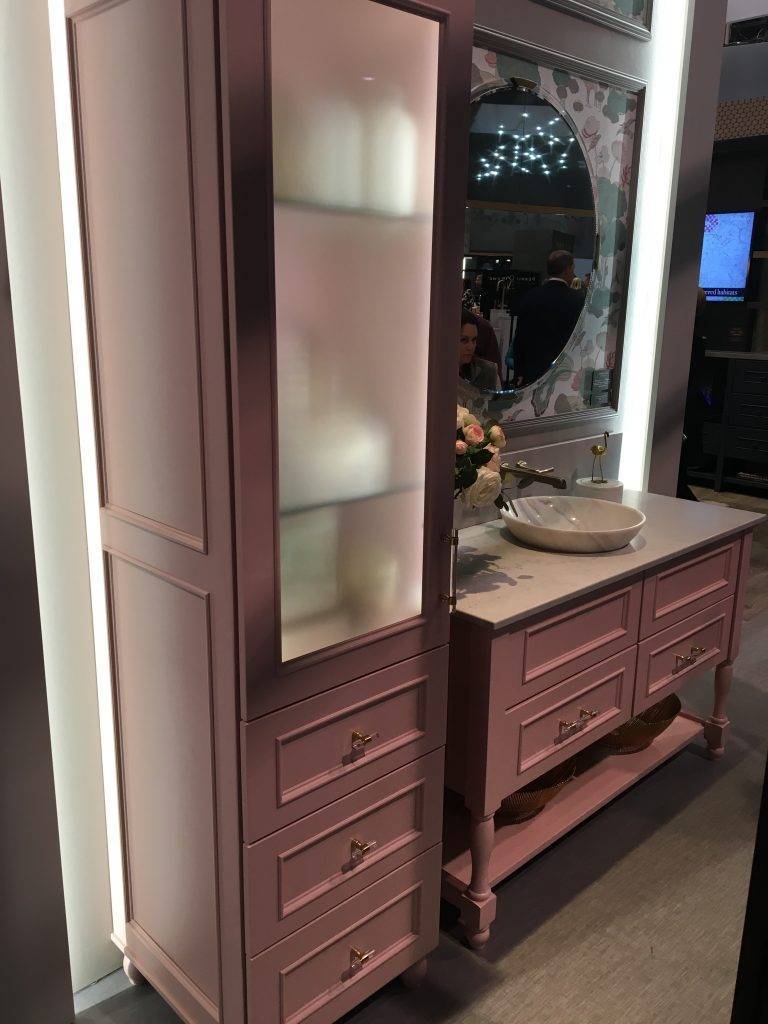 Go Neutral with Navy
We're always excited to see new color trends, and exhibitors across KBIS/IBS did not disappoint. From opaque paints to deep stains, navy cabinets stood out this year. Dramatic and versatile, navy adds depth and contrast against a kitchen's white or cream walls, or a bathroom's white tile.
Pretty in Pink (and Blue and Green) Pastel
Given navy's popularity, maybe it's not surprising that other colors designers often pair with navy—pastels—were also trending at this year's show. We saw everything from pastel accents, to pastel painted doors, to full pastel cabinetry. The pastel palette was originally popular in bathrooms and kitchens during the 1950s. As consumers and designers continue to pursue their obsession with mid-century modern furniture and design, we'll see these color palettes hold up for the future as well.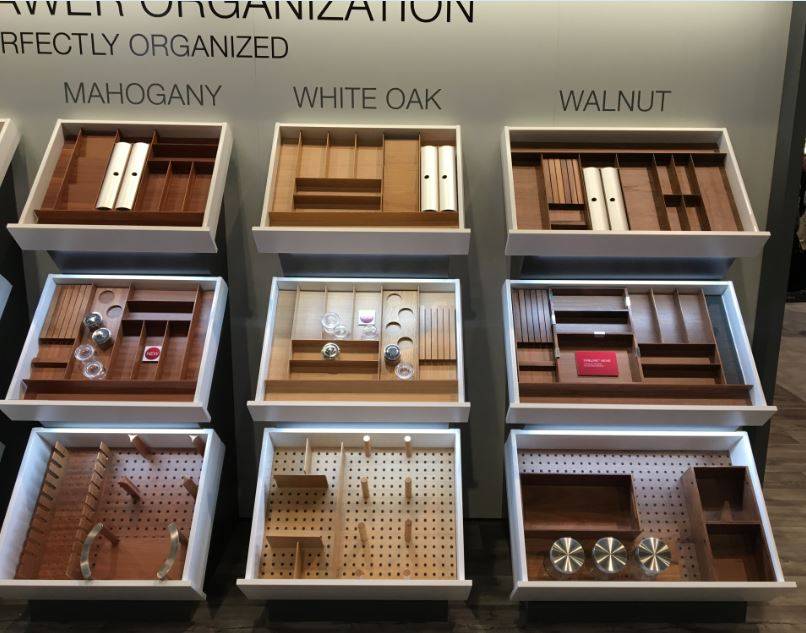 Everything in its Place
One of the most original trends we observed this year was the prevalence of solid wood drawer organizers. The popular wood observed was walnut. It added a sense of quality, high end value and contrasting color. It gave a pop of color to otherwise plain drawer boxes. For the kitchen we saw adjustable peg boards that allow consumers to organize plates and bowls in deep drawers. For the bathroom, wooden drawer organizers can store cosmetics and toiletries with ease. Best of all, it's a trend that applies to those pursuing a truly custom kitchen or bathroom remodel, as well as those that just want to update their current space.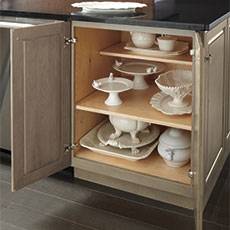 Go Frameless
Frameless cabinetry's time has come. Eliminating the face frame allows for more storage space, so frameless drawers can be deeper (and paired with custom inserts) to store pots and pans, stacks of plates or bowls, and appliances. Originally developed in Europe after World War II, these "full access" cabinets and drawers offer a simple and elegant aesthetic that fits a variety of design schemes. In everything from full kitchen remodels to bathroom modernizing projects, look for frameless cabinets to stay hot with consumers.
Since wood brings warmth to a room and is also naturally antibacterial and antimicrobial, it's a great material option to apply to these trends in both kitchens and bathrooms. American hardwoods are ideal because they take paint and stain well—showing off consumers' favorite fashionable colors—and their durability makes them a superb fit for high-traffic areas of the home.