We recently returned from High Point, N.C., where we attended the Fall 2018 High Point Market. Dubbed "fashion week for home furnishings," High Point Market – the largest furnishings industry trade show in the \world –  boasts 11.5 million square feet of showspace, featuring everything from furniture and casegoods to home furnishings, accessories and more.
We searched showrooms throughout the Market for the bold and beautiful and what's to come. Beyond a generally positive industry outlook coming from furniture makers, here are 4 trends we spotted:
Green Is In
Environmental consciousness is in demand. From eco-friendly and sustainable to clean and toxin-free, we saw natural materials throughout the showrooms. This trend is driven by consumers' desire for materials that are responsibly sourced and environmentally friendly – and a growing push for furniture makers and other manufacturers in the industry to have more visibility to – and take responsibility for – their supply chains.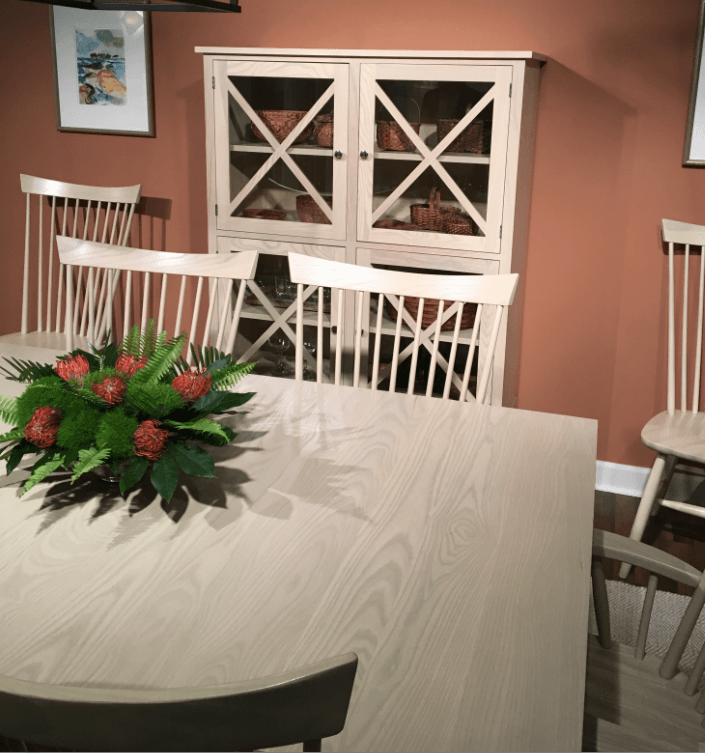 Think Above the Grain
Wood is in demand; but, forget covering it with glossy paints and veneers. Consumers and designers are preferring to feature a wood's character, with finishes that highlight the natural grain and texture. Nearly every showroom that showed wood at High Point had at least one piece with cerused finish – typically in off-white or gray tones. A technique used to highlight the detail and character of a wood's grain, cerusing creates a distressed or rustic aesthetic appeal to the piece without damaging the wood itself.
Simpler is Better
Oversized is out as the minimalist approach is growing more popular, with designs targeting younger consumers in smaller homes or condos. Beds and bedrooms, for example, are moving toward simpler and smaller – like platform beds with shorter headboards.
Hand-Crafted is Modern
Hand-crafted Amish designs are becoming more modern, giving them wider appeal. In addition to extraordinary craftsmanship, the use of two-tone finishes, as well as the addition of curves and rounded edges – adding a softer, more feminine touch – are helping earn Amish artistry a place in interior design.
Remember, US hardwoods bring a lot to the table. They are flexible to accommodate a variety of finishes, are versatile to fit into a range of designs and applications. Through selective harvesting with minimal environmental impact, US hardwoods are a renewable resource that is naturally regenerating at a rate that ensures there will always be an abundant and continued supply.
Although the popularity of some finishes and even species may change from time to time, wood – with its unmatched functionality, versatility, beauty and more – is sure to remain in style and on trend for years to come.